Local Paralympian James Fox MBE delivers inspirational Speech Day address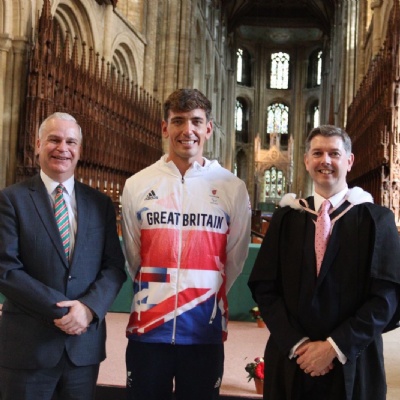 James Fox, MBE, led congratulations to this year's prize winners in the first in-person Speech Day event since 2019.
This year's Speech Day event was a fabulous celebration of pupil success over the past academic year. This year's guest speaker was James Fox MBE - World and Paralympic Rowing Champion, who recently won Gold at this summer's Tokyo Games.
James spoke of his mindset in training, and how despite not initially thinking he was very good at rowing, that through perseverance and even a car crash he was able to achieve greatness with dedication and support from his team. Earlier in the day Year 9 pupils also received a rowing masterclass from James, and even got to try on his Rio 2016 and Tokyo 2020 medals too.
The Headmaster, Adrian Meadows, gave his annual report of the academic year 2020-21 which is below and he thanked the musicians and choirs who performed throughout the event.