Music
Music has a special place in the life of The Peterborough School. We offer pupils the opportunity to engage with music as performers and in the classroom, while singing plays an integral part of the School's community gatherings. As a department, we seek to nurture the all-round musician and unlock a love of music and performance for all our students. Across a broad spectrum of musical genres children are able to receive instrumental and vocal tuition, sing beautiful choral music, explore musical theatre, and perform as soloists or within musical ensembles from jazz and rock bands to our school orchestra. The extra-curricular life of the Music Department is vibrant, providing many valuable opportunities for those studying music at all levels to experience the excitement of live performance.
Led by our Head of Music, Mr Brain, there is an experienced team of musicians teaching academic and instrumental music. Many pupils study more than one instrument and pupils are encourages to perform with regional orchestras and choirs as well as to compete in music competitions.
Click here to see our full music staff list.
Academic Music
The Music Department houses several individual teaching rooms in addition to a specialised Music classroom containing an IT suite, keyboards, and recording equipment. All pupils study academic Music until Year 9, when it becomes an option at GCSE and A Level. We have a strong record of examination success at both levels with pupils enjoying the benefits of smaller class sizes and working alongside students who share their musical passion. Our academic syllabus includes studying different genres from the Baroque to contemporary music, musical history and analysis of set works, music theory, and composition. Classwork is well-integrated with pupils' performance activities.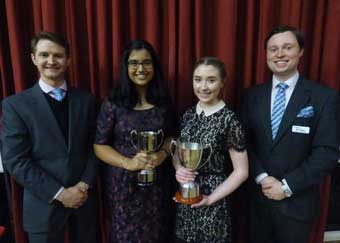 Instrumental and Vocal Lessons
The school offers individual half-hour music lessons and, in some circumstances, longer lessons of up to an hour can also be arranged. They are taught by our team of music teachers who follow a variety of different syllabus including ABRSM, Trinity, and LAMDA.
The School offers private lessons on a variety of instruments including:
Clarinet, Flute, Saxophone
Classical Guitar, Electric Guitar, Bass Guitar
Percussion (Drum Kit)
Piano (classical and jazz)
Singing
Trumpet, Trombone, French Horn
Violin, Viola, Cello,
Please contact our Head of Music to discuss tuition for instruments not currently listed
Our academic and extra-curricular programmes are further complemented by regular concerts, including a lunchtime concert series which provides pupils with further opportunities to perform every term. One of the highlights of the school calendar is the annual in-house Music Festival in which every pupil who learns an instrument, from beginner to advanced levels, takes part. This event culminates in an Awards Ceremony in which guest adjudicators select The Peterborough School Young Musician of the Year. Students are also encouraged to compete in other local and regional Music Festivals, at which they also gain considerable success.
Ensembles
Outside the classroom the department runs an extensive extra-curricular programme. During term-time and during the holidays our various ensembles have toured and performed nationally and internationally. Our aim to provide an opportunity for as many pupils as possible to perform in an ensemble of some kind appropriate to their ability.
Vocal Ensembles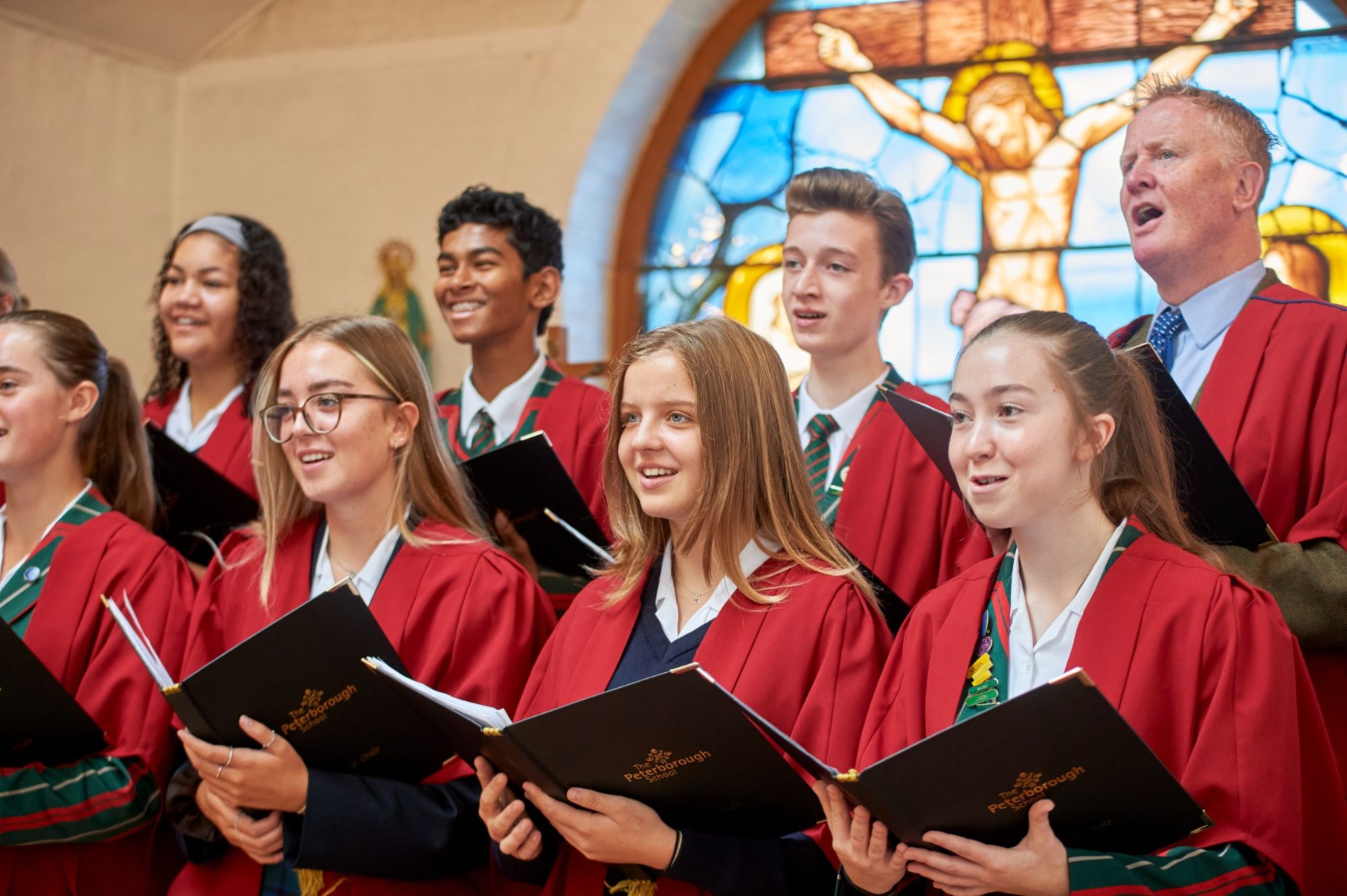 The main vocal ensemble in the Senior School is the Chapel Choir which is directed by the Head of Music, Mr Brain.
The Choir provides music for the weekly Chapel services in addition to special events such as the Christmas Carol Service and Speech Day. The Choir enjoys touring and sings Choral Evensong regularly in Peterborough Cathedral as well as residential trips further afield, most recently at Norwich and St Edmundsbury Cathedrals. They also take part in national Woodard Schools Festivals and events. Their repertoire stretches from Tudor Renaissance works to works by twentieth century and contemporary composers.
The Prep School Choir (Years 4-6) is directed by Mr Bingham. Throughout the year there are numerous opportunities for our Choir to perform, including Harvest Festival, Speech Day, Christingle, Carol Services in the town centre, entertaining the elderly people at Kestrel Court and participating in the annual Katharine of Aragon Service at Peterborough Cathedral. Being in the Preparatory School Choir enables the children to perform in a group where they can develop their self-confidence and experience the buzz of performing in various venues and to a wide range of audiences.
Instrumental Ensembles
Orchestra
The TPS Orchestra comprises of students from both the Senior and Prep school. Directed by Mr Brain, the Orchestra is the centrepiece of School concerts, performing works from a wide repertoire. The Orchestra allows pupils to explore large instrumental ensemble repertoire in a friendly and supportive environment.
String Ensembles directed by Mrs McAuliffe and Mrs Layton-Smith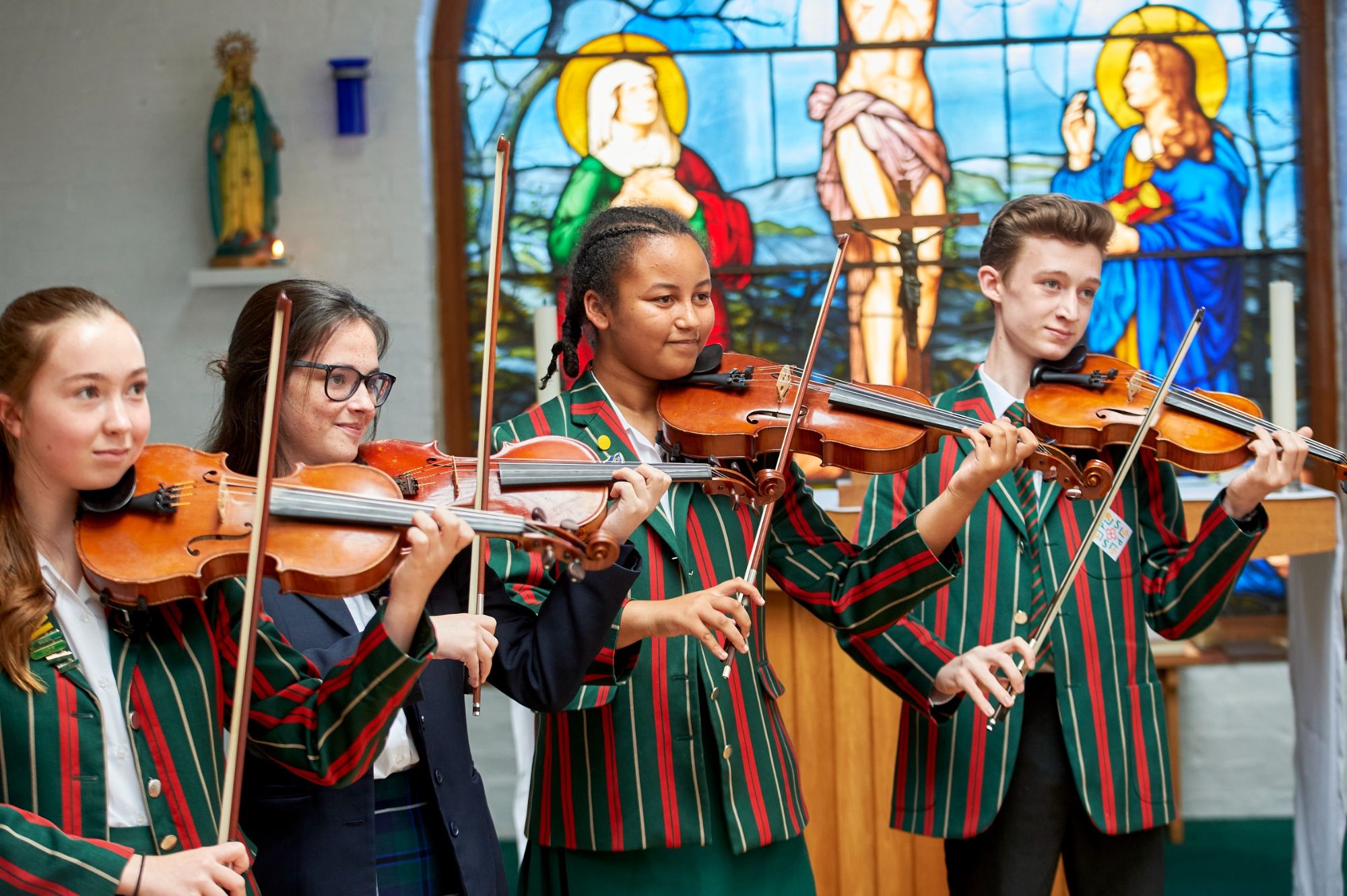 Star Strings is an ensemble for beginner string players. Using fun pieces and musical games, the sessions focus on helping new players become comfortable with correct technique whilst developing the knowledge and skills worked on in the weekly lesson.
Jupiter Strings is the largest string ensemble within The Peterborough School. It is for players of Grade 1-3 standard. Through playing a wide range of pieces, technique is developed, ensemble etiquette learned and enjoyment of a wide range of musical styles encouraged.
Mezzo Strings is for players of Grade 4-8 standard. At this level players are serious about their instrument and are beginning to produce a really good sound. Senior Strings offers members a first taste of standard repertoire as well as favourite film music and popular tunes. Older members are encouraged to develop both ensemble and leadership skills.
The Westwood String Ensemble is for players of at least Grade 6 level. Members are invited to join by Mrs McAuliffe. The group performs at School events and county competitions becoming accustomed to playing a wide range of musical styles.
Woodwind and Brass Groups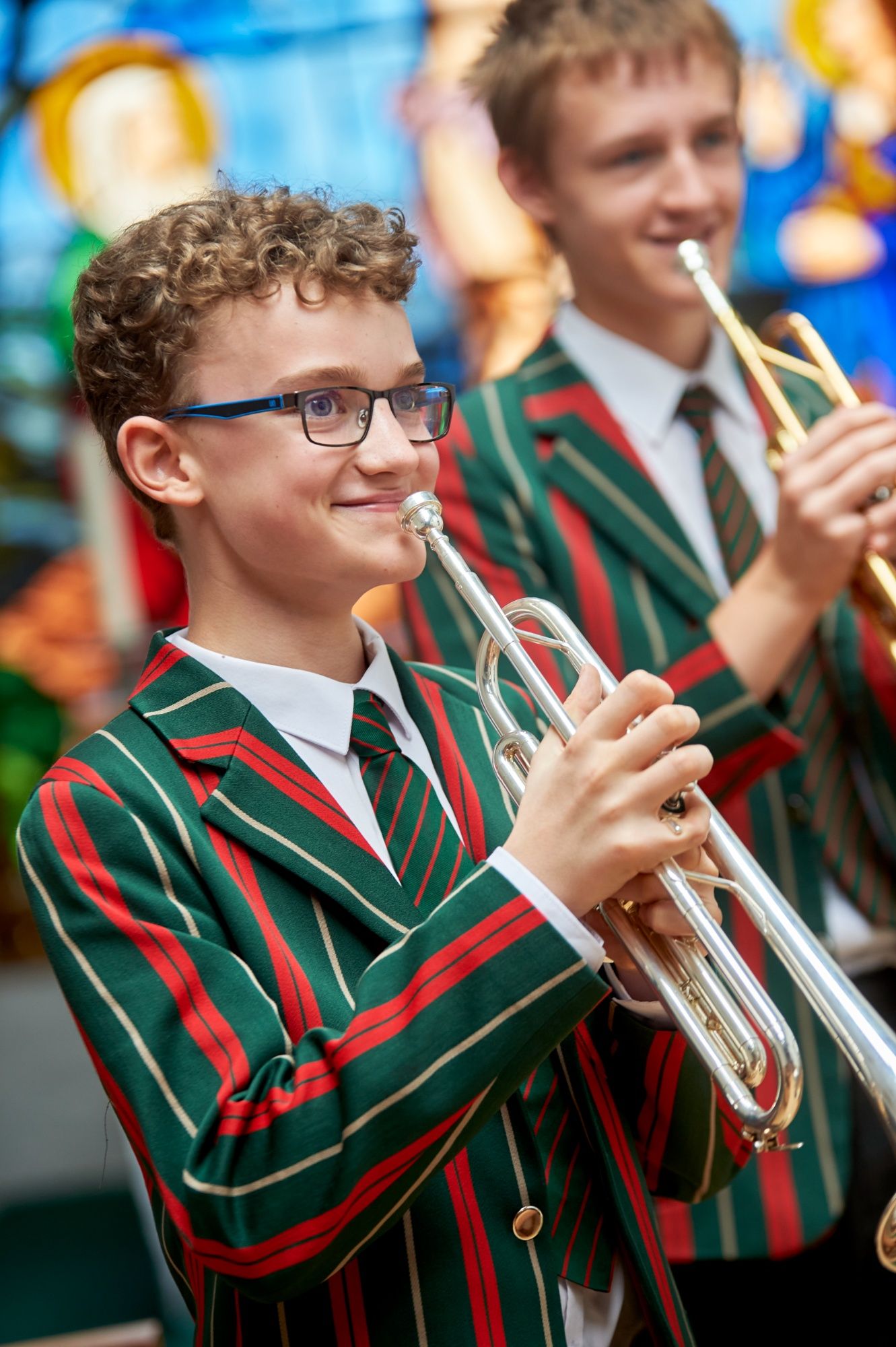 Jazz Band is run by Mr Jewkes and Mr Barnes and rehearse throughout the year. The band's repertoire comprises traditional jazz, swing, hip-hop and Latin numbers. The repertoire is chosen to highlight the strengths of individual band members and a driving rhythm section provides the underlying support for soloists to experiment and develop their approach to improvisation.
Traverso (Flute Ensemble) is directed by Mrs Nessfield and provides an opportunity for students of mixed abilities and ages to meet on a weekly basis in a relaxed but focused manner. The ensemble presents a way to further develop vital listening and note-reading skills while broadening repertoire and understanding of musical styles. It provides a rewarding performance outlet to encourage and support students alongside solo performances.
The Brass Ensemble is directed by Mr Colbran-Ingham and recently has started to explore more jazz repertoire and art of improvisation.
Guitar Ensembles directed by Mr Cranfield
The Prep Guitar Ensemble enjoy performing medleys of their favourite tunes such as James Bond, Star Wars and Pirates of the Caribbean.
Senior Guitar Ensemble is currently in abeyance. Historically it enjoyed performing heavier, complex rock songs. If students would like to be involved, they should speak to Mr Cranfield.
Rock Bands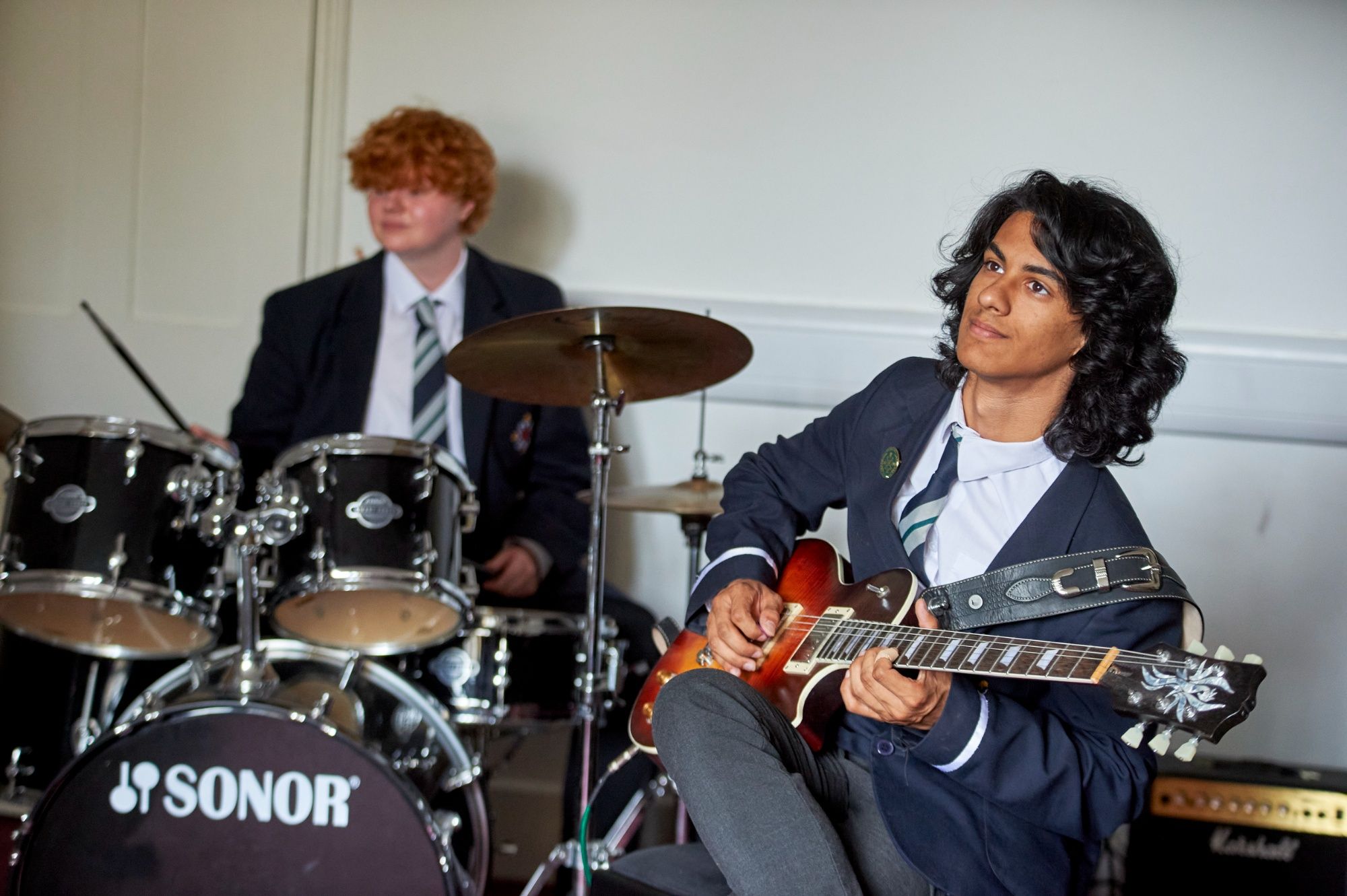 Year Group or House Rock Bands offer a great opportunity for those students who like to crank up the volume in preparation for the Battle of the Bands competition in March. Singers, guitarists, bassists, and pianists get together once a week to rehearse their favourite rock songs and compete for the glory of the Battle of the Bands trophy. Have a chat with Mr Cranfield and Mr Jewkes if you have any ideas you wish to explore.