The Toddler Room
The Toddler Room provides care and education for 15 children between the ages of approximately 20 months and three years,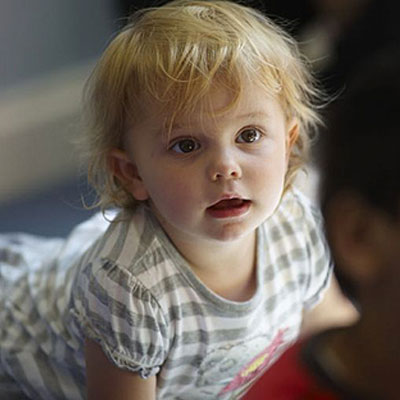 although this is very flexible depending on each child's needs and stage of development.
The main room provides a variety of mark making, messy and imaginative play activities, along with construction and mathematics. The quiet room has a well-stocked book corner, where the children can listen to a story read by an adult or look at a book independently. The Toddlers have key groups. Each day they spend time with their key people, completing circle times relating to a selection of focused activities such as music, literacy and physical play. The introduction of cookery sessions has also become very popular, and the Toddlers have enjoyed making scones, tortilla pizzas and pasta salad.
After lunch, the quiet room is cleared to allow the children to rest and sleep. All the children are provided with their own personal sleep mats, which have their photograph and name on.
A member of the Toddler Room staff is always available to meet and greet you and your child when you arrive at the Nursery and when you collect them at the end of the day. Children are offered breakfast between 8.00 and 8.45am.
Throughout the day, the children have the opportunity to play in a variety of physical, manipulative, creative and messy play activities. They enjoy a balance of adult and child initiated play and have extensive access to our outdoor areas in all weather. The Toddlers also use The Peterborough School grounds to go on nature walks and they enjoy team games and picnics on the school field. The Toddlers have the opportunity to visit Forest School as well.
Our Toddlers become increasingly independent individuals, serving their own food at meal times, pouring their own drinks and even being the 'Helping Hand' and helping to set the activities for the day and the tables for meal times.
To contact us for more information, please complete the Request A Prospectus form or phone the Nursery on 01733 355747.