Textiles Technology
What is Textiles Technology?
Textiles Technology is a creative and technical subject building lifelong skills. Textiles students combine practical and technological skills with creative thinking to design and make items which meet human needs.
What disciplines do we cover?
During Key Stage 3 students can expect to develop their knowledge and understanding of materials and processes in textiles. They will be required to respond to design briefs and produce their own design specifications. They will learn how to work safely, use the sewing machine, select materials for their properties, embellish fabrics, use resist methods such as Wax Batik, create Applique panels and use Computer Assisted Design.
Our facilities
The Textiles/Art studio is very well equipped: students are able to use the Apple Mac computers for research and design work and students are taught to use the sewing machines independently.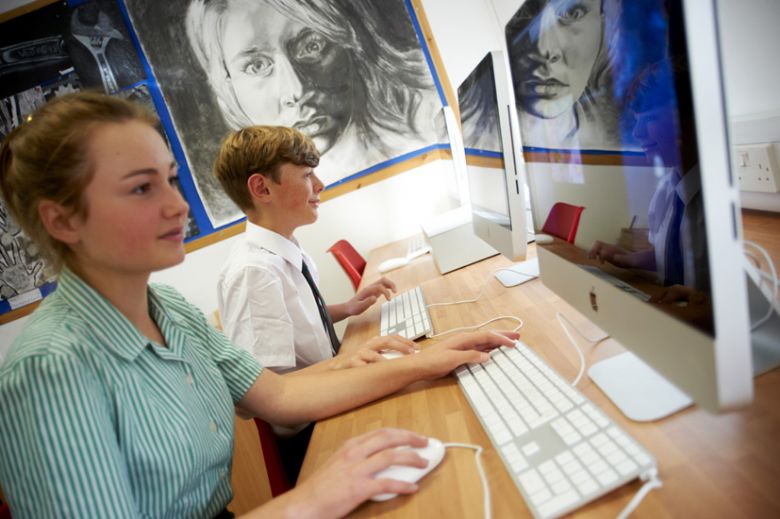 Curriculum outline
| | | |
| --- | --- | --- |
| Year 7 | Planner Cover | For this project students use the resist method of Wax Batik to add pattern and colour to fabric. They are also taught how to use the sewing machine safely to construct the cover. To further embellish their covers, students are taught a wide range of hand embroidery stitches. |
| Year 8 | Cushion | Students design and make a cushion for a member of their family. They are introduced to a range of methods they can use to add colour and pattern to fabric, including; transfer paper, fabric paint, Applique and fabric crayons. Students then have to select the materials and methods to use to create their own cushion. |
| Year 9 | Bag | For this project students are given a brief to design and make a bag influenced by the paper collages created by the artist Henri Matisse. They are to imagine that it will be sold in a gallery shop, currently exhibiting his work. Students use the process of Applique to create a panel for either a 'shopper' or a draw string bag. |