Music
Music is a very important part of life at The Peterborough School. We have an exciting department, which houses a number of practice rooms and a Music Technology classroom. All Senior pupils study music until Year 9, when it becomes an option at GCSE and A Level. We have a strong record of examination success at both levels. Classwork, which includes the use of Sibelius, is well-integrated with pupils' performance activities and many of our musicians also take practical and theoretical exams up to and including the Performers' Certificate level of the Associated Board of the Royal Schools of Music.
There is an experienced team of musicians teaching academic and instrumental music. Many pupils study more than one instrument and several pupils each year go on to study music at university. Some pupils study at Junior Academies and perform with regional orchestras and choirs.
Outside the classroom the department runs an extensive extra curricular programme. During term-time and during the holidays our various ensembles have toured and performed nationally and internationally. Our academic and extra curricular programmes are further complemented by regular concerts, including a lunchtime concert series which provides pupils with further opportunities to perform every term. One of the highlights of the school calendar is the annual in-house Music Festival in which every pupil who learns an instrument, from beginner to advanced levels, takes part. This event culminates in an Awards Ceremony in which guest adjudicators have the unenviable task of choosing The Peterborough School Young Musician of the Year. Students are also encouraged to compete in other local and regional Music Festivals, at which they also gain considerable success.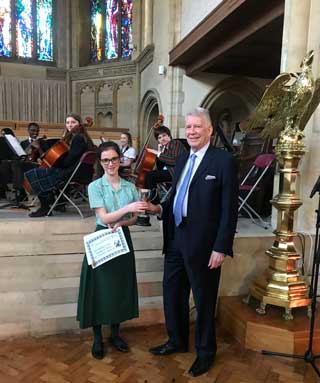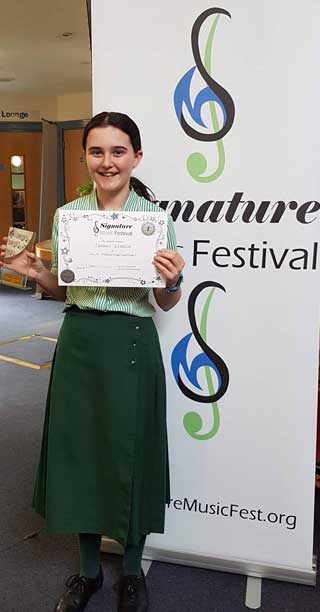 Instrumental and Vocal Lessons
Music lessons are individual and last from half an hour to a full hour. They are taught by our team of over ten visiting music teachers. Click here to see our full staff list. The School offers private lessons on a variety of instruments: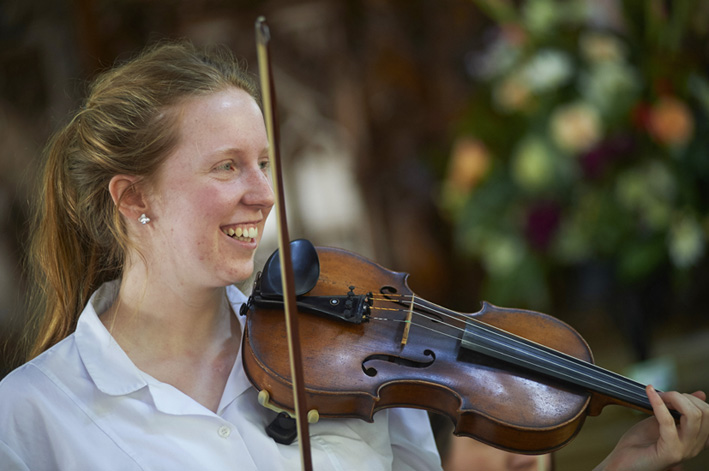 Piano (classical and jazz), Organ
Violin, Viola, Cello, Clarinet, Flute, Saxophone, Oboe, Recorder
Trumpet, Cornet, Trombone, French Horn
Classical Guitar, Electric Guitar, Bass Guitar
Percussion (Drum Kit)
Composition
Singing
Music Theory
Voice
Please see the Head of Music if you would like tuition in an instrument not listed here.
Extra Curricular Music Groups
The Symphony Orchestra comprises around 30 of the best musicians in the school. The Symphony Orchestra are the centrepiece of each end of term School Concert, performing major pieces from a wide repertoire.

The Peterborough School Youth Jazz Orchestra is made up of approximately 15 pupils who rehearse throughout the year. The band's repertoire comprises traditional jazz, swing, hip-hop and Latin numbers. The repertoire is chosen to highlight the strengths of individual band members and a driving rhythm section provides the underlying support for soloists to experiment and develop their approach to improvisation. The band performs at the school's Music Festival and annual Summer Jazz Evening.

Pupils have formed several rock bands which rehearse in the Band Room; they perform at the school's Music Festival, particularly in the Battle of the Bands competition, and in the annual Christmas Concert.

The Pop Band is a great opportunity for those students who like to crank up the volume. Singers, guitarists, bassists and pianists get together weekly to rehearse their favourite rock songs and then perform them at the Music Festival, Christmas Concert and other events during the year.

The Peterborough School runs three guitar ensembles: the Prep Guitar Ensemble, the Classical Guitar Ensemble and the Electric Guitar Ensemble, each of which focuses on a different style of music.

The Soul Band is the most vocal-focused band. Various instruments are also welcome to join, such as pianists, drummers, brass players and guitarists. The Soul Band perform hits from the 1960s to present day and also regularly perform at all the concerts held at the school throughout the year.

Folk Band is a band formed by pupils who rehearse twice a week focusing on music with a folk influence. They have performed more traditional numbers as well as music by the Goo Goo Dolls and Mumford and Sons. They also perform locally and are booked for external events. They are the current holders of the Battle of the Bands shield and are looking forward to a day in a recording studio as their prize.

There is a large number of additional, smaller groups who mostly rehearse at a set weekly time, including string quartets, wind and brass groups.
Singing
The School's Chapel Choir sings every week for the School's Eucharist services, as well as for other major school occasions including Speech Day and the Carol Service. They also regularly sing Choral Evensong at Peterborough Cathedral in addition to visiting other UK cathedrals throughout the academic year.