English
English is a popular subject at The Peterborough School. All pupils take English and English Literature to GCSE level and many more go on to study English Literature in the Sixth Form. We aim to build a love of the subject, enabling students to become increasingly perceptive readers and proficient users of English.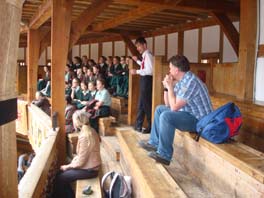 In Years 7 to 9, we build upon English work done in the previous Key Stages, revising and consolidating existing skills and developing new skills in the key areas of Reading, Writing and Speaking and Listening. We follow the National Curriculum for the teaching of English and our scheme of work is closely linked with the recommendations of the National Literacy Strategy, with an additional focus on extended reading and creative writing activities.
Preparation for GCSE begins in the final term of Year 9. During the GCSE courses, students develop further confidence and accuracy in the key literacy skills. Classes study poetry, prose and drama at GCSE as well as a range of non-fiction and media texts. The ability to communicate is an essential tool and we ensure that our students are literate in every sense.
Throughout the English curriculum, the Learning Resource Centre provides opportunities for students to research authors and texts. Reading lists are issued to support studies at examination level as we feel it is particularly important for our older students to develop skills as independent learners.
In addition to its curricular work, the English Department provides regular visits to theatres, cinemas, lectures and study days. We welcome visiting authors and poets who give talks about their writing and provide inspiring workshops. Many of our students have been successful in local and national creative writing competitions and we have several published poets in school. Reading for pleasure is actively encouraged and supported by the Senior School LRC with an exciting range of contemporary fiction available for students to borrow.