Year 11 Enjoy Summer Creative Writing Workshop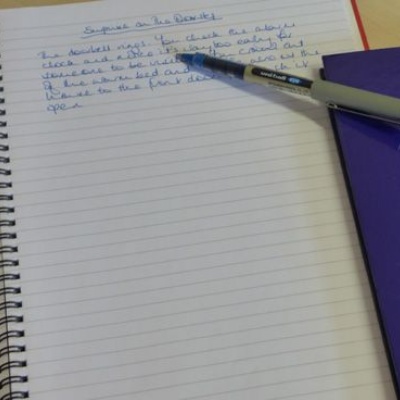 A group of Year 11 pupils enjoyed a day looking at how to write creatively and use 'writers' tips' to enhance and develop their writing style. The workshop took place on Friday 26th August and, in spite of the glorious sunshine outside, the group threw themselves into the tasks and discussions enthusiastically, achieving excellent results.
The day started with a review of strategies to write effectively and developed on to look at how to use an image to write from a range of angles. The group then critically evaluated a selection of short stories from prompts and went on to complete the workshop by writing a 500 word piece from a short writing prompt.
The students all agreed it was time well spent and that they really enjoyed being given the opportunity to write for pleasure and develop their work throughout a whole day of activities.
A selection of the 500 word pieces are attached for you to enjoy.