Professor Michael Thorne Presents Awards at Speech Day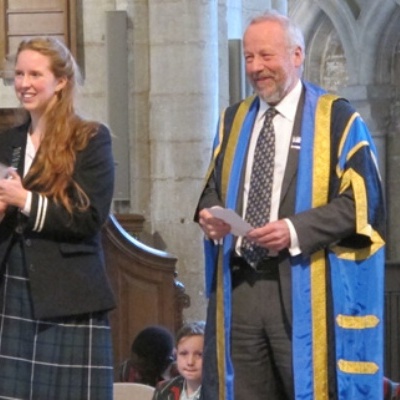 Professor Michael Thorne, Vice Chancellor of Anglia Ruskin University presented the prizes at Speech Day 2015.
Professor MIchael Thorne joined us in the wonderful setting of Peterborough Cathedral for Speech Day on Friday. Professor Thorne is a true academic, having gained a first class honours degree in pure mathematics and his PhD in Computational Group Theory and his working life has been dedicated to university life. He is an author, book editor and contributor to TV and radio programmes and in his spare time conducts Wagner operas and other large scale musical works. He is a Freeman of the City of London and member of the Musical Livery Company.
Professor Thorne delivered a lively, entertaining speech before presenting the 170 prizes.
The Headmaster also delivered his review of the 2014-15 academic year, highlighting the School's many and varied achievements and the ceremony was punctuated by wonderful choral and instrumental music.
The Headmaster's speech can be seen in full by downloading the attached document.