European Day of Languages 2023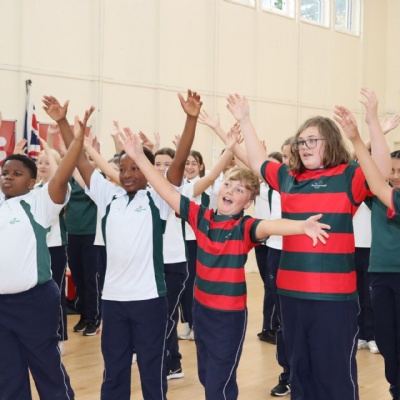 On Tuesday, the 26th of September, the students celebrated European Day of Languages in a very special way!
Year 9 students had the opportunity to attend an online session with speakers from the University of Manchester, who talked to them about all the career opportunities that languages can give them. They have also heard from students that were already studying languages about what their course involved and their experience studying abroad and how they have immersed themselves in the new culture, making new friends and trying new experiences that they had never thought they would have.
Year 11 students were involved in a webinar offered by GCHQ (British Intelligence) and the British Council, again, showing them how important languages are in the world of work, and all the opportunities that come with being able to speak a different language. The speakers were sharing their experience of dealing with national confidential information that they had to translate and how their knowledge of a foreign language has a massive impact when it comes to keeping the country safe.
Year 6 and 7 were involved in a Flamenco dance workshop offered by DanceDays, where the students learnt how passionate flamenco dancing is, and even produced an amazing dance at the end, with typical dance moves! Year 8 students were offered the opportunity of attending a French dance workshop, and they stood out from all the groups by their listening skills and willingness to learn the steps - well done Year 8!
The staff in the kitchen played an important part during the day, designing and serving a different menu for the day, with a variety of typical food from different European countries, including Greek chicken kebab, Spanish lentil soup, Mediterranean-inspired side dishes, and even Belgian waffles for dessert!
A competition was held as well amongst tutor groups, where teachers anonymously shared their experience with languages, promoting the schools' value of "Family"- and students had to guess which teacher it was. A prize will be given to the tutor group with the most correct answers. (The winning form has yet to be announced).
The students thoroughly enjoyed the day and their smiles at the end of their sessions were priceless! Well done to all students for participating in a wonderful day.
Feedback from students:
"The French dancing was very fun and entertaining. I still have the dance stuck in my head, and I have been doing some of the dance moves at rugby and I made some of my rugby friends laugh. They wish they were there and got to experience it too!"
"The French dancing was really fun. It was a great opportunity to learn something new... I think that we should continue to do this every year. "
"I enjoyed the dancing because I thought it was good to learn the dances or songs from a different culture."
Mrs A Paleoca
Head of Mondern Foreign Languages