Pupils excel in BMFA Challenge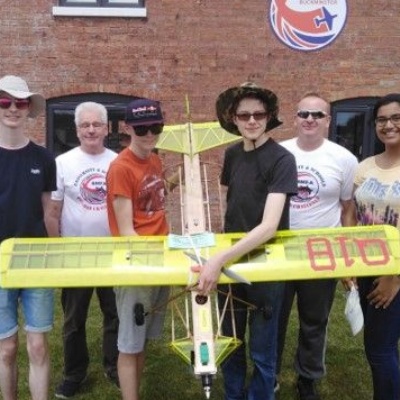 Pupils excel in BMFA Challenge
Over the summer, pupils from the School participated in the British Model Flying Association (BMFA) International Payload Challenge in Buckminster. The field was particularly strong, with universities from across the globe travelling to compete.
The School entered two teams, one into the distance challenge (building a plane to complete as many laps of the course as possible), and the quantity challenge (to load as many balls as possible onto the plane while also navigating the course, as many times as possible). Both teams performed exceptionally, with the 'distance' team finishing in second place, and the 'quantity' team awarded fifth place (despite flying with the most amount of balls!).
A huge achievement by all students involved, with three teams now starting work for next years competition.
About the BMFA: The BMFA is the National Governing Body for the sport of model flying and one of its key aims is to increase interest in aviation and engineering through education. Each year, the club holds an international competition known as 'The Payload Challenge', which requires students to design, build and fly load-carrying model aircraft. Judging is by a panel of professional engineers and the competition has attracted very favourable comments from external examiners. The challenge is partnered by the Royal Aeronautical Society and also enjoys the support of BAE SYSTEMS, Rolls Royce, RAF Engineering and the Royal Air Force Model Aircraft Association. In the previous two years, the School has been placed second and fifth in the challenges and we were exceptionally pleased to be awarded the 'Jetex Challenge Cup' in 2018 for outstanding design, team spirit and outstanding presentation skills.
Would you like to support this years teams? If you would like to support with materials or a donation please get in touch.