Country Dancing Festival 2019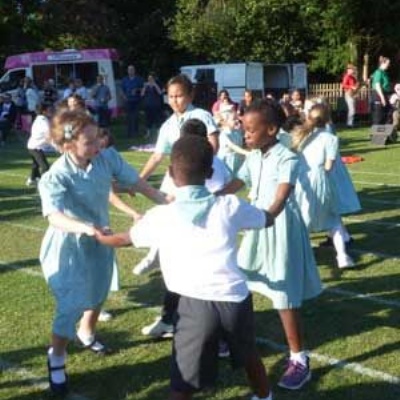 We were delighted to host the Primary Schools Country Dancing Festival again this year and 19 schools took part on a wonderful evening.
A wonderful blend of tradition and colour filled the School grounds as TPS hosted the annual Peterborough Schools' Country Dancing Festival for the fifth time in June. A last minute change of forecast meant it was a perfect Summer's evening and saw 19 local Primary Schools gathering on the front pitch as they danced in a delightful show of movement and fun. The sound of children's laughter and joy were heard as they showcased many dances including I Want To Be Near You and the Oxo Reel.
This was the 30th year that Annette Dagless has called the dances at the Primary Schools Festival and, along with her folk band Avalon, they provided a vibrant carnival atmosphere for the evening. The evening ended with dances for everybody to join in with, although the children outdid their parents and grandparents with the forward rolls! A visit from the Mayor and Mayoress of Peterborough and refreshments provided by the PTG all contributed to making the evening a memorable and happy occasion.