Outstanding Performances in Prep Christmas Shows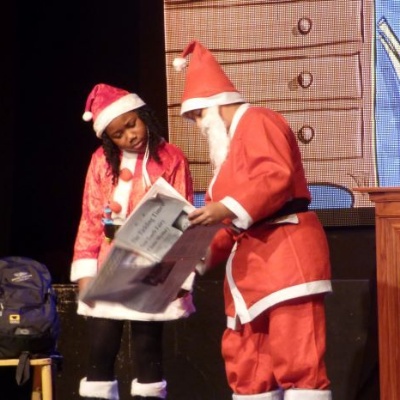 The Prep productions of Sasha Got Stuck Up The Chimney and The Inn-Spectors were greatly enjoyed by all who watched them.
Reception and Lower Prep children beautifully acted, sang and danced their way through the traditional Christmas story with a difference in The Inn-Spectors. In this tale, Mary and Joseph's search for a room in which to have their baby coincided with Inn Inspectors who were checking out the facilities on offer in Bethlehem. The Inn-Spectors were not at all happy that certain guests had been accommodated in a stable but when they realised a new-born King had arrived, heralded by the presence of Wise Men, brilliant stars and dancing angels, they were greatly impressed by the Inn Keepers' flexible hospitality!
In the Upper Prep production, a group of orphaned children, including Sasha and her friends, wrote their traditional letters to Santa but then got sucked up the chimney when trying to send them and ended up going all the way to the North Pole where they met Santa and Mrs Claus, along with all the elves in their workshop. At the same time, one of the orphans, Harriet, teams up with a maleficent Tooth Fairy and his sidekick who plan to ruin Christmas for everyone, creating havoc around the North Pole. Having put paid to the Tooth Fairy's plans, Sasha and her friends go back down the chimney to wait for their Christmas gifts. Having helped to rescue Christmas, Sasha is delighted to have her dream of being adopted realised when Santa and Mrs Claus claim her as their own.
There were many words and songs for everyone to learn in both productions and they were performed with great aplomb. The costumes and staging also created wonderfully festive atmospheres and the many jokes, which were delivered with exceptional timing, will be long remembered.