School Celebrates Best A Level Results for Six Years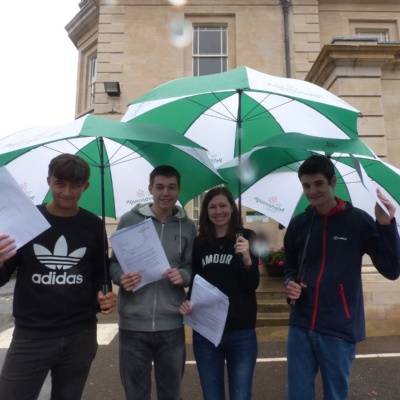 A Level students collected their excellent results this morning.
The rain could not dampen spirits this morning as last year's Upper Sixth students collected the School's best A Level results for six years, which saw a 5% improvement in the number of top grades achieved.
A third of all grades were at A* and A and just under two thirds (59%) were at A* to B in the tougher, linear courses.
Several students gained straight A/A*s, which will see them embarking on a wide range of degree courses, including Medicine, Computer Science and Economics.
The Headmaster was thrilled for all the students who gained these excellent results in challenging circumstances: "I am delighted that our students' hard work has been rewarded. The exams are undoubtedly getting tougher and, by moving away from modular courses, students now only have one chance to achieve the grades they need so I congratulate each and every one on how well they have managed and their wonderful achievements."