Folk Band Wins 2018 Battle of the Bands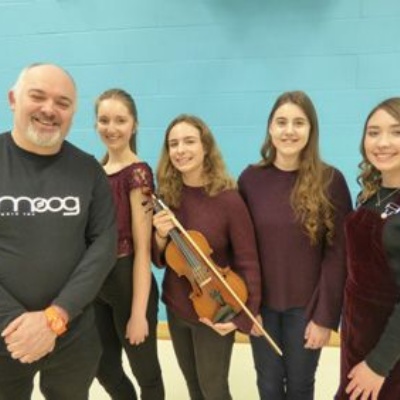 Folk Band were this year's winners of Battle of the Bands, one of the most anticipated events in the school calendar!
Despite some amazing music from Pop Band, Rock Band and 7 Alight, Folk Band's harmonies were highly praised by adjudicator, Nick Smith, who crowned them this year's champions. The girls will now go on to record some of their songs in a professional recording studio in the Summer. Folk Band comprises Chloe Hayes (keyboard), Jodie Baldwin (violin), Neve Gordon-Farleigh (vocal), Olivia Barnes (vocal).
Special mention must go to the other competitors:
Pop Band - Daniel Alugongo (drums), Georgina Hunt (vocal), Nikki Nikolov (vocal) and Amir Shah (keyboard)
7 Alight - James Dawson (drums), Edward Cameron (guitar), Megan Wilkinson (vocal), Victoria Penev (vocal), Sarah Allen-Farrelly (clarinet) and Georgia Longworth (keyboard)
Rock Band - Simon Heath (guitar), George Mickleburgh (guitar), Devansh Sampat (drums), Thomas Purtill (vocal), Henry Skrobot (guitar)