New Management Team At The Nursery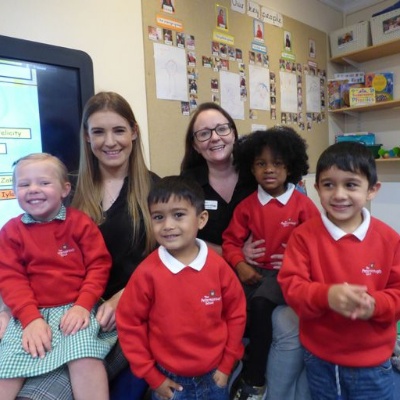 Following the promotion of Lorna Clingo to Nursery Manager, Jodie Wailes-Newson has joined the management team at The Peterborough School Nursery, having moved into the vacant Deputy Manager's position.
Both bring a great deal of experience to their new roles as Lorna has worked at the Nursery for eight years and Jodie four, initially as Baby Room Practitioner and then as Toddler Room Team Leader.
The Nursery, which has been rated Outstanding by the Independent Schools Inspectorate, provides year-round day care and offers an array of activities which support the Early Years Foundation Stage. These additional opportunities for children are the focus of Lorna and Jodie's development plans, with extension of learning experiences in all three of the garden areas and expansion of the Forest School provision at the forefront.
Jodie is also looking to develop a range of trips for the Pre-school children in 2018 to allow them to expand their curriculum and spend more time in the local community. There will also be a 'People Who Help Us' month during which a range of professionals from the police, fire service, doctors and dentists will visit to talk to the children about their roles.
It is an exciting time at the Nursery and both Lorna and Jodie are looking forward to the opportunities which lay ahead with Lorna saying "We are both excited for our first year managing the Nursery together and have been overwhelmed by the support from the School, Nursery staff and parents since our appointments. We are blessed with a wonderful team of practitioners, several of whom are currently undertaking further qualifications to develop their knowledge and skills in childcare, and we look forward to enhancing the Nursery's excellent reputation".