Dr Emily Grossman Presents Speech Day Prizes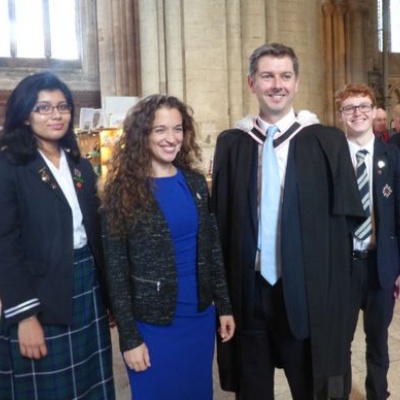 TV scientist, Dr Emily Grossman, was the guest speaker at Speech Day in Peterborough Cathedral.
Scientist Dr Emily Grossman, star of Sky 1's Duck Quacks Don't Echo, Discovery Channel's How Do They Do That and resident science expert on ITV's The Alan Titchmarch Show, joined parents, governors, pupils and staff of The Peterborough School at the annual Speech Day in Peterborough Cathedral on Friday 20th October. Special guests also included the Mayor of Peterborough, Councillor John Fox and Julie Robinson, General Secretary of the Independent Schools Council.
The Headmaster's address focussed on the School's superb examination results as well as highlighting success in STEM subjects and extra curricular projects, areas which Dr Grossman strongly advocates as a newly-appointed Honorary STEM Ambassador, along with astronaut Tim Peake.
Dr Grossman addressed the audience, talking about how her passion for science was ignited by her endocrinologist father and how she struggled through bullying and a lack of confidence to achieve her impressive qualifications and also follow her love of theatre, both of which drove her on to become a renowned science broadcaster.
Dr Emily then presented prizes to over 150 prizewinners before being presented with a gift and receiving a Vote of Thanks by the Head Girl, Upasana Das.
The Headmaster's report on the academic year 2016-17 can be downloaded from this page.