Young Enterprise Team Through to Regional Finals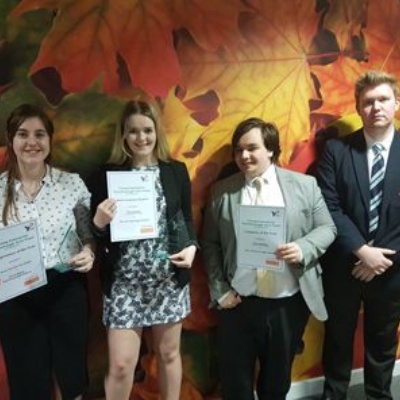 This year's Young Enterprise team won Best Company Award, Best Company Report and Entrepreneur of the Year at the Area Finals.
At the end of March four representatives from this year's Young Enterprise company, Serendipity, competed at the Area Finals by putting together a Company Report and presenting the story of their year to a panel of judges. During the event they also set up a stall table as they had done for the trade fairs they had visited, which gave the judges the opportunity to walk round and ask questions about the products and services as well as the company report. At the same time, Neve Gordon-Farleigh was interviewed for an individual award.
The presentation re-capped everything the team had done during the year, including the financials, their products and services and how the company had developed from its creation to the end point.
The team was absolutely delighted to find they had not only won the award for the Best Company Report, but Neve was awarded Entrepreneur of the Year and the team won the coveted Best Company title. They now progress to the Regional Finals and take the best wishes of everyone at school with them.