TPS Hosts Bloodhound Rocket Car Competition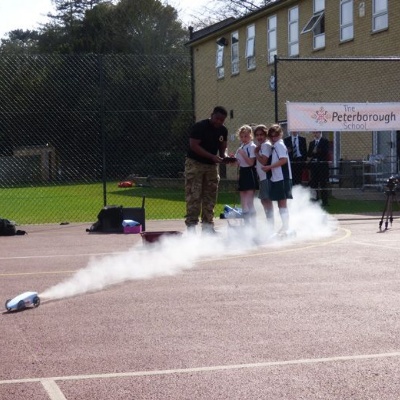 The Army Rocketeers helped us fire our rocket cars as part of the Bloodhound Race For The Line competion.
Bloodhound SSC are hoping to beat the land-speed record next year and, in the run up to their attempt, schools have been challenged to build and race their own rocket-propelled cars, taking into account lessons in design technology, aerodynamics, wind resistance and computer programming.
Five local schools joined us to race their model cars, each built from foam bricks and with BBC Micro:bit computers on board to measure the velocity and acceleration achieved as they raced along a wire.
The results of the competition we hosted will be submitted to the national database and the fastest cars will be invited to attend regional finals later in the year.
Our Year 5 teams, pictured below, achieved some very fast times on the day.