Nursery Apprentice Wins Award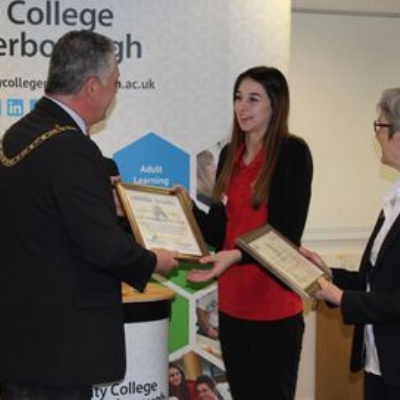 Lauren Windsor from The Peterborough School Nursery being presented with her award for outstanding progression within the apprenticeship programme from the Mayor.
Out of 300 employers in Peterborough who provide apprenticeships, The Peterborough School Nursery was one of four who received awards for their dedication and support of apprenticeships at a ceremony hosted by Peterborough City College and attended by the Mayor.
Each company also took one of their apprentices who has shown how well they have progressed in gaining qualifications while working. The Nursery's star apprentice is Lauren Windsor who was recently awarded Apprentice of the Term by the City College. She has almost completed her Level 3 Early Years Educator qualification and has progressed from being a Relief Childcare Practitioner to Childcare Practitioner and Key Person.
Nursery Manager, Pauline Bellamy, also attended the ceremony with Lauren to receive the Nursery's award which is recognition of her invaluable support of apprentices and her excellence in their training.