Looking back at the Duke of Edinburgh's Award at TPS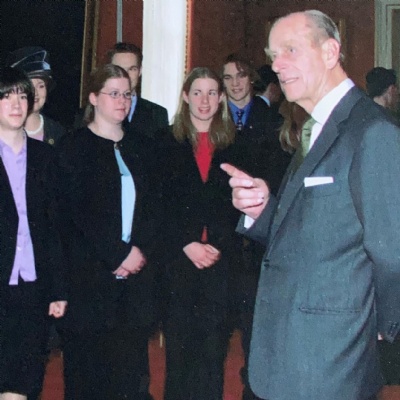 The Peterborough School looks back at several years of pupils completing their D of E awards (The Duke of Edinburgh is pictured with TPS Alumni, receiving their Gold Awards at St James Palace, March 2002).
We were all greatly saddened by the loss of His Royal Highness, The Duke of Edinburgh, and our thoughts continue to be with his family. ​
The Duke of Edinburgh's Award's Patron and Founder leaves a remarkable legacy. We will continue to encourage as many students as possible to take part in and benefit from The Duke of Edinburgh's Award.
We currently have 80 students working towards their award, and we are looking forward to our Bronze and Gold expeditions at the end of the Summer Term. There are of course countless numbers of past students who have also benefited from participation.
I have encouraged our Gold Award students to reflect on their own current D of E journey. They clearly recognise the range of opportunities and experiences the award has provided them.
"Completing the Bronze Duke of Edinburgh's Award was incredibly important in pushing me to seek new opportunities and experiences. It allowed me the opportunity to give back to my local community and to experience the fulfilling nature of volunteering schemes. The Bronze expedition was one of the most challenging, rewarding, and memorable experiences I have ever had" Darya – Y12
Mr Brocklesby, Head of Key Stage 3 and D of E Award at TPS