Sixth Formers celebrate university offers following outstanding A Level Results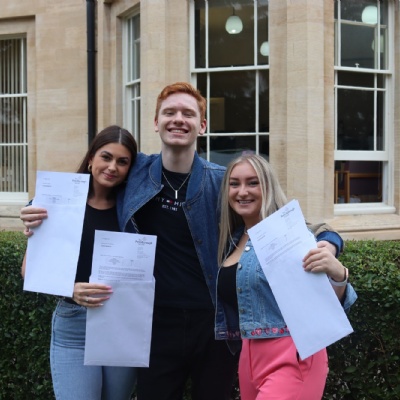 Recent leavers celebrate another year of outstanding results
Sixth Formers at TPS have achieved an excellent set of A Level results with a 100% pass rate. All pupils also received offers from a chosen university, with most offered places at their first choice.
This year's statistics are particularly impressive, with 100% of A Level grades between A*-C (national average 88.5%), 93% at A*-B (national average 70.3%), 68% of grades at A*-A (national average 44%) and 29% at the highest grade of A* (national average 19%).
Individual successes include Head Girl Chiara Bellinzona who gained three A*s in Maths, Further Maths and Physics and plans to study Physics at Kings College London. Charlie Spencer also achieved three A*s in Maths, Physics and Product Design, and will go on to study Computer Engineering at Bath. Sixth Former Amelia Grota achieved three A*s in Art, Biology and Maths as well as an A in Physics, and plans to study Natural Sciences at UCL from September. They also achieved A*s in their Extended Project Qualifications (EPQ), an additional independent research project students undertake on a topic of their choosing.
Congratulations also go to Head Boy Ollie Cobb, following his two A*s in Drama and Sociology, as well as As in History and his EPQ. Ollie will go on to study Sociology at Bath later this year. Mohammed Din will take up his place to study Medicine at Anglia Ruskin with his two A*s in Biology and Chemistry and an A in Maths, while Anika Sampat is also celebrating exceptional A Level results, having achieved two A*s in Business Studies and English, alongside two As in Maths and her EPQ. Anika will be moving on to Leeds to study Accounting and Finance.
Headmaster Adrian Meadows is thrilled for the students, saying: "These are an incredible set of A Level results and university offers, and our students should be really proud of everything they have achieved. Our pupils have demonstrated just how resilient they are over the past couple of years experiencing long periods of remote learning, and these results are a true testament to how adaptable and hardworking they are. We hope they can move on to the next stage in their education career without further interruptions from Covid."