Preparatory School Usage
As well as having their curriculum PE lessons in the Facility, Preparatory School pupils now have an exciting range of extra-curricular opportunities available to them.
Pupils learn the art of fencing from a Great Britain Fencing team coach. Not just a combat sport, fencing improves balance, tactical awareness and pupil strategy.
The state of the art climbing wall is very popular with pupils. They get the opportunity to challenge themselves both physically and mentally while learning a sport that will foster a love of the great outdoors in future years.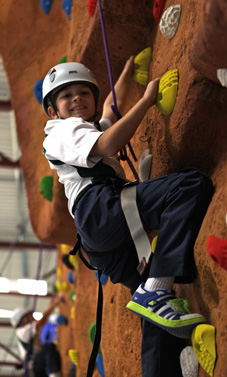 The Sports Facility allows year round tennis to be taught by professional LTA coaches. Likewise, the cricket nets enable skills to be honed throughout the year.
Basketball has proved a hugely popular sport and we are now pleased to host an annual primary schools' tournament.
Here's what Prep School pupils have to say about the Sports Facility:
"I really enjoy fencing. It has helped my hand-eye co-ordination and improved my reflexes, plus it is fun!"
"Basketball is great! I love playing matches against the Year 5 boys"
"I like playing basketball because we play against lots of different teams and the court is great; the baskets are the perfect height for us"
"The Sports Facility has helped my tennis because I can rally against the wall"