Art and Design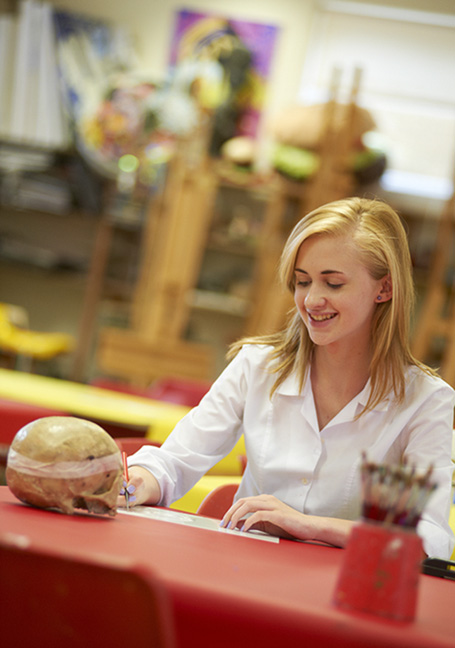 Art and Design lessons recognise that the visual arts stand at the heart of human civilisation; that from the earliest times mankind made its mark, whether as simple decoration, visual record, self-expression or as a response to the spiritual. Every object we possess bears the mark of an artist, craft-worker or designer. The Arts are also at the heart of our intellectual and spiritual lives; along with literature and music, the visual arts enable us to respond to every aspect of our lives.
Art and Design is taught in well-equipped, light and airy studios. Facilities are available for students to work in a wide range of techniques including painting, drawing, ceramics, textiles, printmaking, 3D work and photography. Each room has its own bank of computers which allows students to utilise digital technologies within their work.
The new A Level Art and Design course is exciting and challenging; students are able to develop their craetive potential while developing their technical skills in a wide range of media.
Two specification options are available:
Art and Design: Fine Art
Art and Design: Textile Design
Most students moving on from GCSE will undertake the Fine Art endorsements as in both courses this is broad enough to accommodate almost any range or combination of media or technique. Students who have completed an Art Textiles GCSE can choose to complete their studies in the Textile Design endorsement.
These courses are not only great for students who love Art and Design and the act of creation or for those wanting to take up one of the many exciting career destinations for Art and Design graduates - they develop a broad range of skills that employers value such as communication, lateral thinking and creative problem-solving, an ability to find things out, flexibility and adaptability as well as self-motivation.