Mathematics
Mathematics lessons take place in three specialist teaching rooms, one located in the Sixth Form teaching suite. We aim to develop mathematical skills alongside an appreciation of pattern, order and structure.
The use of ICT is encouraged, but we are also keen to improve the mental skills of our students.
Years 7 to 11
Students are organised into sets and retain the same teacher where possible throughout Years 8 to 11; this ensures continuity and means that students retain the same teacher throughout their GCSE course. The Higher Level and Foundation Level courses from the OCR specification are followed. There is controlled assessment in this syllabus.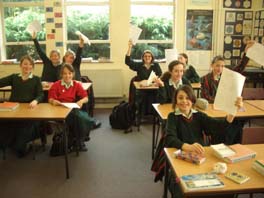 In addition to the general syllabus, students enjoy tackling the Junior, Intermediate and Senior UK Mathematics Challenge competitions. They have been successful in entering the second stage European competitions.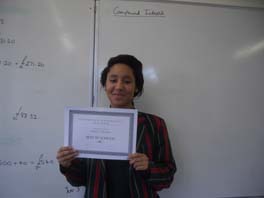 Years 12 and 13
Mathematics is an increasingly popular subject choice and we follow the Edexcel modular courses in Pure Mathematics, Statistics, Mechanics and Decision Mathematics. Students are entered for AS and A2 in both Mathematics and Further Mathematics.
The enthusiasm for Mathematics engendered in the younger age groups, encourages a significant number of pupils to continue with the subject into their Sixth Form. In recent years a number of pupils have progressed to read Mathematics at University.